Debate & Discussion
Annual Day / Sports Day
Gratitude Day.
Teachers' Day.
Children's' Day Fete.
Scouts & Guides.
Entertainment Activities.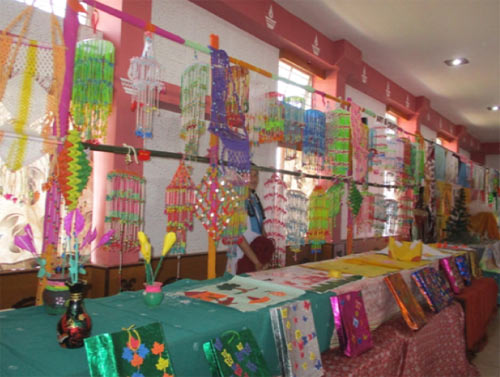 Aim:
To stimulate a keen sense of union among all pupils in School.
To stimulate a greater effort in sports and academic achievements.
To develop a sense of belonging to the school and consequently a good spirit.
To train in leadership and sense of responsibility.
To offer the pupils models whom they can imitate.
The cultural and co-curricular activities of the school are conducted through House System and Group System in accordance with the educational method of St. John Bosco.
The House System provides ample opportunity for an all-round education and development of the students. There are Four Houses each having its own Colour, Patron and Motto and guided by the appointed Moderators.
| HOUSE | PATRON | MOTTO | FEASTDAY |
| --- | --- | --- | --- |
| Blue | Bl. Laura Vicuna | Purity | 22nd January |
| Green | St. Dominic Savio | Peace | 6th May |
| Red | St. John Bosco | Love | 31st January |
| Yellow | St. Mary Mazzarello | Joy | 31st January |
Its main aim is to work in unity and collaboration in the exchange of ideas, opinions etc. for the integral growth of the child studying in this Institution.
Each House is guided by Captains, Vice-Captains and Class Monitors. At the end of each year, trophies are presented to the winning House for studies, games and activities.
N.B. : The House System is introduced from Class I upwards…..